There are dozens of memes out there, and what better way to give some insight about myself than to show you a smattering of memes results for myself. Most of these are clickable so you too can take them.
70% General American English
15% Upper Midwestern
15% Yankee
A Sexy Red Slip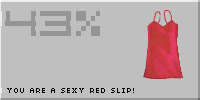 Networked Operational Violence and Assassination Construct

| | | |
| --- | --- | --- |
| Area | Score | Rating |
| Intelligence | 6.4 | Average Intelligence |
| Risk | 5.4 | Average Risk |
| Ambition | 5.9 | Average Ambition |
| Gay Factor | 1.5 | Very Low Gay Factor |
| Honor | 5.2 | Average Honor |
| Politeness | 5.2 | Average Politeness |
| Income | 6.2 | $30,000 - $50,000 |
| Sociability | 5.1 | Average Sociability |
| Promiscuity | 3.0 | Low Promiscuity |
Vince Vaughn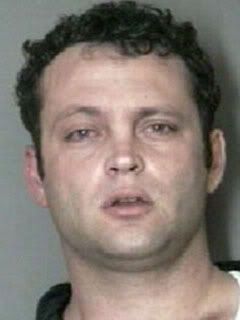 71%
A person who makes a living suing celebrities
Novac [noun]: A person who makes a living suing celebrities
Nefarious, Orphan-Vaporizing Abomination from the Crypt

INTJ
I didn't just take some lousy online test. I took this entire Myers-Briggs test "professionally" at college. Two of the four scores were quite severe, and the other two were razor thin. INTJ is referred to as the "Mastermind" and/or "Scientist" personality. Here are a few links to additional profile information:
Rawrr!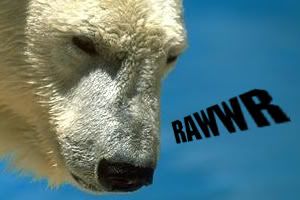 Nocturnal One Volunteering Arousing Caresses

50% Canadian Slang
25% Prison Slang
25% Southern Slang
25% Victorian Slang
(125%??? That's a lot of slang!)
Count Dooku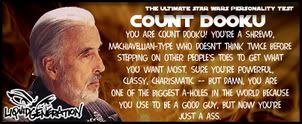 Caterpillar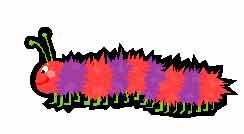 You are a Caterpillar! Many people are often envious and jealous of a caterpillar. Caterpillars may not be quick, but they are quite wise and often think about things before they do them.!
Chocolate Kisses

Albert Einstein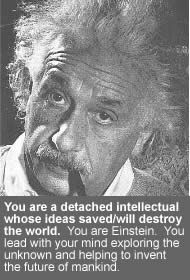 Tea

Cor blimey, I taste like Tea.
I am a subtle flavour, quiet and polite, gentle, almost ambient. My presence in crowds will often go unnoticed. Best not to spill me on your clothes though, I can leave a nasty stain.
Fan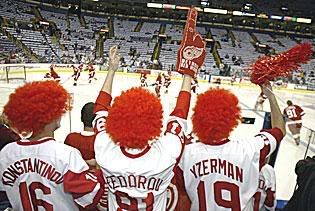 You don't play, you just watch and cheer on your team. Every team needs fans; Let's just hope you're not a puckbunny.
Snarky Blogger

You've got a razor sharp wit that bloggers are secretly scared of. And that's why they read your posts as often as they can!
Spork
You are a spork! You are a mismatched hodgepodge of a personality, and as such, utterly useless.
Sir Lancelot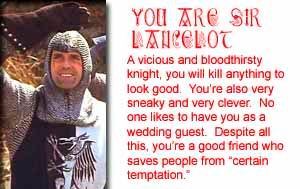 Let's not bicker and argue about who killed who!
Monterey Jack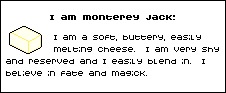 Bea Honey
Bam Bam Fluffycakes
Loner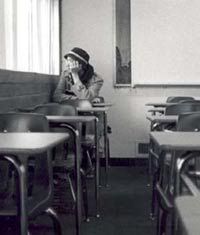 | | |
| --- | --- |
| Loner | 63% |
| Drama nerd | 56% |
| Goth | 50% |
| Geek | 50% |
Fozzie the Bear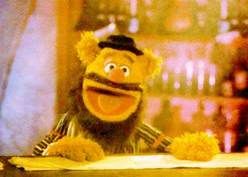 Your Inner Muppet is a dancing stand-up bear.
Snuffleupagus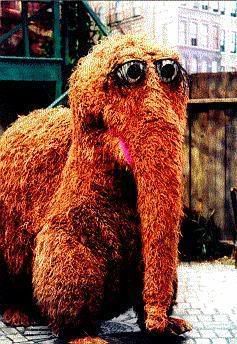 You scored 54% Organization, 51% abstract, and 52% extroverted!
You are somewhat organized, both concrete and abstract, and both introverted and extroverted.

You are somewhat organized. You have a good idea where you put things and you probably keep your place reasonably clean. You aren't totally obsessed with neatness though. Alloyius Snuffleupagus (and all Snuffleupagus') is not sloppy by nature, but he moves so incredibly slowly that it is impossible for him to be totally organized.

You are about equally concrete and abstract thinkers. You have a good balance in your life. You know when to be logical at times, but you also aren't afraid to explore your dreams and desires... within limits of course. Snuffy generally has very basic interests, but he explores his abstract sensitive side when he plays his snuffleflute.

You are somewhat introverted. Originally Snuffleupagus was very shy and was only Big Bird's invisible friend. However as he has aged he has started to build new friendships with new characters. Like Snuffy, you probably like to have some time to yourself. However, you do appreciate spending time with your friends, and you aren't scared of social situations.
Happy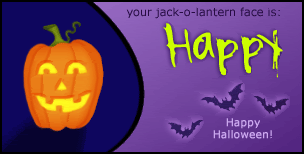 Mad Dog Roberts

Part crazy, part mangy, all rabid, you're the pirate all the others fear might just snap soon. Two things complete your pirate persona: style and swagger. Maybe a little too much swagger sometimes — but who really cares? Arr!
Patriot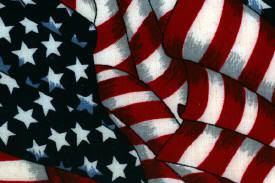 This is the best country in the world. Freedom and liberty is a human right.
Giggly Berry-Elf
Stalker Smurf
Joplin, MO

Joplin, MO
Clarksville, TN
Amarillo, TX
Hampton, VA
Abilene, TX
Norfolk, VA
Murray, KY
Oklahoma City, OK
Tulsa, OK
Berea, KY
Salisbury, NC
Alpine, TX
Greenville, NC
Rocky Mount-Stony Creek, NC
Louisville, KY
Woodbury, TN
Lynchburg, VA
Knoxville, TN
Durham, NC
Hickory, NC
Enid, OK
Nashville, TN
Lubbock, TX
Bowling Green, KY
Tobias Fünke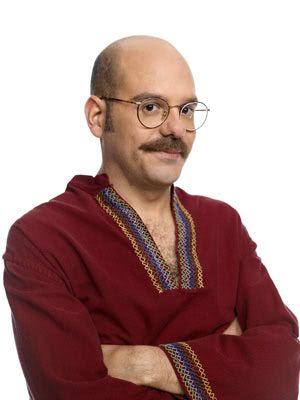 You are Tobias. You have a love for a creative lifestyle, you are driven and can't wait until the day you can really call yourself "Successful"
Gigantor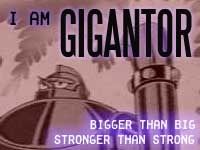 Born in 1963, You are possibly the original colossal death robot, being one of the patriarchs of the current crop, and definitely an advocate of old-skool enemy-bashing. Why use a clumsy particle weapon when you can create supernovas just by flexing your arms? Your one minor weakness is that you are entirely dominated by some kid with a remote contol - still, don't let it get you down. You can sink a nuclear submarine with jazz music.
Igor Stravinsky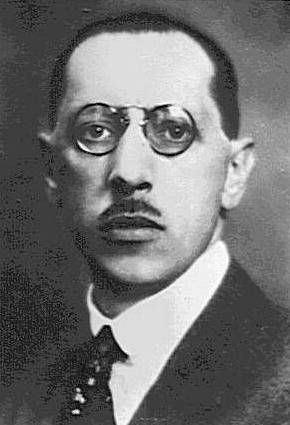 If I were a Dead Russian Composer, I would be Igor Stravinsky. Known as a true son of the new 20th Century, my music started out melodic and folky but slowly got more dissonant and bizzare as I aged. I am a traveler and a neat freak, and very much hated those rotten eggs thrown at me after the premiere of "The Rite of Spring."
Nihilist Bear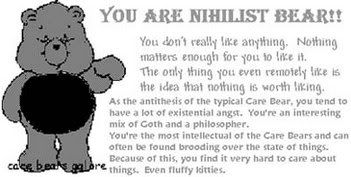 St. Augustine

St. Augustine (100%)
Aquinas (92%)

The results are scored on a curve. The highest score, 100%, represents the closest philosophical match.
Vostok, Antarctica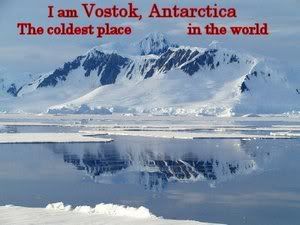 The world's coldest place. You reached a low of -88.3 degrees Celsius, recorded at the convenient Russian research station on top of you, a level of intense cold that would not look out of place on Mars. At this temperature mercury is very firmly a solid, making normal thermometers useless; radon gas condenses into liquid; and a few degrees colder would have carbon dioxide freezing out of thin air. Added to this, your average temperature is a trifling -55 degrees, the only visible rocks within 600 miles are meteorites, the ice freezes eyelids shut and clothing to the body within fifteen seconds of exposure and sometimes even splits teeth open. You are, in a word, cold.
.exe

Marvin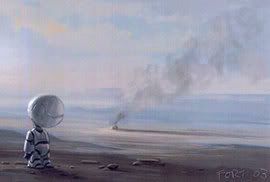 Like Marvin, you are chronically depressed. Unlike Marvin, you are probably not a robot. Marvin is a new generation of robot, infused with GPP (Genuine People Personalities). Marvin finds little job satisfaction in his menial tasks and he's quick to remind others that he won't enjoy them. To be fair, opening doors and fetching things can be a little tough to swallow with a brain that can compute your personality problems to thirty decimal places, while predicting the weather of an entire planet.
Unfortunately, Zap2It took this test down, so I removed the link here.
Rabies

Transmitted by rabid animals, you're most commonly found infecting creatures such as raccoons, skunks, bats and foxes. But don't worry, you affect humans too, causing either paralysis or hyperactivity in your advanced stages, and ultimately death. Your most famous symptom is hypersalviation - that delightful foaming at the mouth that we have come to know and indeed love. However, you can also cause hallucination; think of the fun you could have at parties!
Craig Schwartz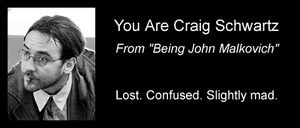 Umberto Eco's The Name of the Rose
You are a mystery novel dealing with theology, especially with catholic vs liberal issues. You search wisdom and knowledge endlessly, feeling that learning is essential in life.
Sawyer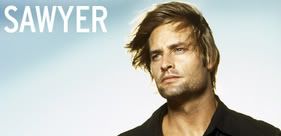 You're Sawyer. But what's your real name?
Sphinx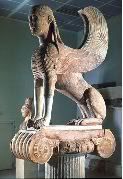 You're a sphinx. You're one smart cookie, but possibly a sociopath, seeing as you kill anyone who can't answer your riddles correctly. The TV show "Who Wants to Be a Millionaire" would be much more interesting with you as the host.
Statler & Waldorf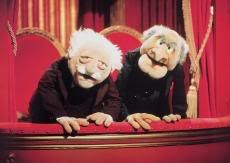 Oooohahaha! Your Statler & Waldorf (the 2 old guys who made fun of everyone). You're friggin' hilarious!
Kip Dynamite
Owl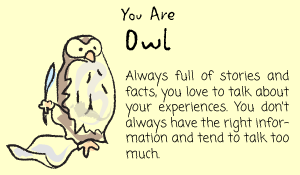 Debian Linux

Luigi
I don't quite get it. I am smarter, fitter, and bolder than my potbellied brother ever could hope to be, yet he gets all the fame, fortune, and glory, not to mention Peach's heart. If only I was the first player in Super Mario Bros… things could have been different. Maybe I can make a comeback, now that I finally have my own game.. but probably not. After all, I'm just Luigi.
Superman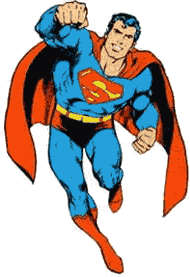 You are mild-mannered, good, strong and you love to help others.
| | |
| --- | --- |
| Superman | 70% |
| Green Lantern | 65% |
| Hulk | 60% |
| Spider-Man | 60% |
Queen Elizabeth I
Well, your dream date has arrived! She is none other than Queen Elizabeth I.
50% Chance of Survival
There's a 50 % chance that I'll survive the 'thon.
How to make a Novac
Ingredients: 3 parts competetiveness 3 parts self-sufficiency 3 parts ego
Method: Stir together in a glass tumbler with a salted rim. Top it off with a sprinkle of emotion and enjoy!
---