Saturday, August 5th, 2006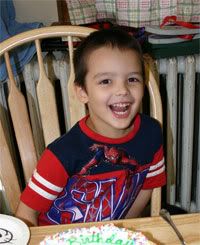 Sebastian at 5 years
On his birthday, Sebastian got to pick the meals of the day. For breakfast, the family went to IHOP and Sebastian feasted on strawberry waffles with maple syrup and whipped cream. The IHOP staff came out and sang Sebastian a birthday song and delivered a free bowl of ice cream. At the time, he seemed a bit embarrassed by the surprise, but he later said that it was fun.
Sebastian went to Toys'R'Us and picked out his gifts. His favorite gifts were a Star Wars Storm Troopers gun and a snow leopard stuffed animal named "Snowy."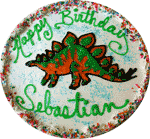 Sebastian's dino-cake
Back at home, the whole family enjoyed hot dogs for Sebastian's lunch request. For dessert, we enjoyed an ice cream cake with a stegosaurus on it, just the way Sebastian wanted it. He was very impressed with the cake.
Later in the night, Sebastian played a game of his new favorite card game, War, against his father. Sebastian took an early lead, but his dad came back to even it up. Sebastian came through and won the game in the end.