Tuesday, August 29th, 2006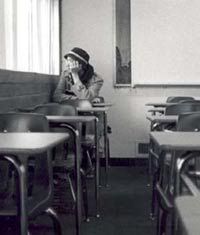 Loner
What's my high school stereotype? I took the What's My High School Stereotype? quiz, and here are the four stereotypes that scored 50% or higher:
Loner: 63%
Drama nerd: 56%
Geek: 50%
Goth: 50%
Loner: I cannot disagree with being called a Loner. Without a doubt, I limited the number of friends I had in my own high school because I spent most of my time and energy with my church's youth group instead.
Drama nerd: I was in all (four) of my high school's plays, so I certainly would fit into the drama nerd group to some degree. As far as I can remember, however, none of us regular actors were a stereotypical drama "nerd" at all. We were all different types of nerds instead — my school just wasn't big enough to be that diverse.
Geek: Any way you slice it, "geek" fits me just fine. To tell you the truth, I was surprised that it only ranked third. I guess I just wasn't motivated enough scholastically to be a Geek over a Loser in this quiz's opinion.
Goth: Goth certainly did not describe me in school, nor does it describe me now. I think this option is the quiz's Achilles' heel. The closest I ever got to goth was wearing a black t-shirt with a witty saying on it.
I know by now you're asking yourself, "What's My High School Stereotype?" Find out!
You can view many more personality quizzes on the Personality Tests page.