Tuesday, August 22nd, 2006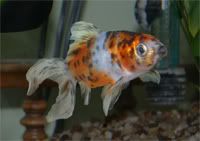 Jerry, the fish out of water
My wife noticed yesterday that Sebastian's one-and-only pet, a fish named Jerry, was not in his tank. She explained to him that Jerry was probably on the floor somewhere, but Sebastian posited that he might also be in the sink or toilet (on the other side of the house).
Thus, yesterday morning I awoke to Sebastian yelling at me that Jerry had gone missing. This is rarely a relaxing way to start your day, unless perhaps you sleep on a bed made from shards of glass. Luckily, my wife was on the case already, so I earned the job of fighting through that "why-am-I-awake-already?" haze while trying to console my quivering-lipped son.
Luckily, my wife found Jerry on the floor. She took him for dead when she picked up the dry fish, but then Jerry blinked a bit and moved slightly. She put him back in the tank, and hours later, he seems to be doing fine, though I'm sure there must be some damage.
Apparently, Jerry had decided to end it all. Somehow, he made his way out of the fish tank, which requires a jump of at least two inches out of the water. Moreover, the only openings in the tank were a six-inch opening in the front for feeding purposes and a couple two-inch gaps in the back on either side of the filter.
Not coincidentally, Jerry's owners (Sebastian and my wife) neglected him for several weeks as a horrible amount of algae and other various gook covered his tank. He couldn't see out, and we couldn't see in. It is my belief that this neglect and psychological trauma caused Jerry to carry out this suicidal cry for help.
In order to keep Jerry from jumping out again, she replaced the lid on the feeding section on the front of the tank. The back, however, is permanently open on either side of the filter. I'm guessing that my wife chose the most convenient item on hand to cover these openings, but her choice was hilarious: The back of the tank is now covered by an army man's parachute. I'm clearly more pessimistic than my wife. If the fish gets suicidal and jumps again, I don't think he's going to grab the parachute and ride it down to the floor.