August 31st, 2006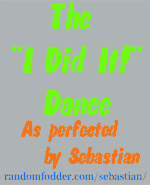 The "I Did It!" Dance
As I mentioned two weeks ago, I had hoped for Sebastian to complete the Hooked on Phonics program before school starts. Mission accomplished!
As we normally do, Sebastian placed the last sticker on his Level 5 map, and then we did the "I Did It!" dance. I have included an animated picture here as a reference so that you can dance along at home.
Hooked on Phonics time can just be "reading time" from now on. I have selected 28 books for reading time that Sebastian should be able to read with minimal help. Sebastian is really interested in most of these books, and I think he is impressed with himself that he can read books that aren't part of the Hooked on Phonics program.
It's nice to know that school starts in less than a week, and Sebastian already has a solid set of reading skills.
Hooked on Phonics worked for Sebastian!
---