May 24th, 2005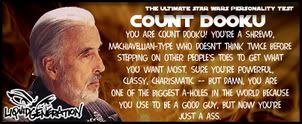 I'm Count Dooku!
Liquid Generation has The Ultimate Star Wars Personality Test available for the taking.
As you can see, I turned out to be Count Dooku. Formerly good, now bad. But still, I'm Machiavellian, and I can use the Force to shoot lightning out of my hands!
That's odd. Most of my friends would have guessed Jar Jar!
This post was originally posted at The Smarmy Carny, Novac's general blog.
---